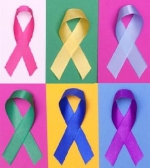 Borstkankerbehandeling (hormoontherapie-bestraling) slaat bij de ene patiënt wel aan en bij de andere niet. Dat komt omdat kankercellen resistent worden, en meteen tegen beide behandelingen.
Nederlandse onderzoekers onderzochten naast de genexpressie in borstkankercellen (MCF-7 cellijn) ook de gegevens en tumormateriaal van borstkankerpatiënten. Zo ontdekten zij dat van alle 'uitgeschakelde' genen, het 'MGP-gen' het enige was in borstkankerweefsel dat (zowel bij tamoxifenbehandeling als na bestraling) in verband stond met de overlevingsduur van de patiënt. MGP (MatrixGLA-proteïne) is een vitamine K2-afhankelijk eiwit dat ervoor zorgt dat calcium niet in bloedvaten, maar in bot opgeslagen wordt (belangrijk bij osteoporose!).
Maar blijkbaar zorgt het ook voor een betere ziektevrije overleving bij behandelde borstkankerpatiënten. Een verlaagde aanmaak van MGP blijkt geassocieerd te zijn met een slechtere ziektevrije overleving bij vrouwen met borstkanker die zijn behandeld met tamoxifen of bestraling.
De antikankerwerking van vitamine K2 is overigens al langer bekend, en blijkt veelbelovend als niet-toxische optie voor de preventie van kanker en als adjuvans bij de behandeling.
Referenties:
Post AEM, Smid M, Bussink J, et al. Downregulation of matrix Gla protein is a biomarker for tamoxifen-resistant and radioresistant breast cancer. Biomark Med. 2019 Jul; 13 (10):841-850.
Nimptsch K, Rohrmann S, Kaaks R, et al. Dietary vitamin K intake in relation to cancer incidence and mortality: results from the Heidelberg cohort of the European Prospective Investigation into Cancer and Nutrition (EPIC-Heidelberg). Am J Clin Nutr. 2010 May;91(5):1348-58.
Xv F, Chen J, Duan L, et al. Research progress on the anticancer effects of vitamin K2. Oncol Lett. 2018 Jun;15(6):8926-8934.
Bron: ABC Gezondheid