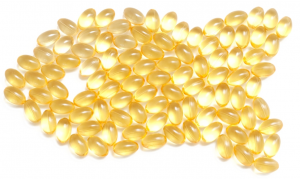 Personen met hoge bloeddruk kunnen baat hebben bij suppletie met visolie. Een lage dosis omega 3-visvetzuren kan al de bovendruk verlagen en zodoende de kans op hart- en vaatziekten verkleinen.
Er namen 312 gezonde mannen en vrouwen deel aan het onderzoek. Ze kregen gedurende acht weken dagelijks 700 of 1800 mg EPA (eicosapentaeenzuur) en DHA (docosahexaeenzuur) per dag of een placebo.
Suppletie met beide dosissen visolie had geen effect op de bloeddruk wanneer de hele groep in ogenschouw werd genomen. Echter, er waren 31 deelnemers met een verhoogde bovendruk. Suppletie met de omega 3-visvetzuren EPA en DHA leidde bij deze personen tot een significante verlaging van de bovendruk met gemiddeld 5 mmHg. Al de laagste dosis van 700 mg per dag bleek effectief. Een dergelijke dosis kan verkregen worden door de consumptie van twee tot drie porties vette vis per week.
Hoewel de bloeddrukdaling minimaal lijkt, is de reductie voldoende om de kans op een hart- of vaataandoening met 20% te verlagen.
Referentie:
Minihane AM, Armah CK, Miles EA, et al. Consumption of Fish Oil Providing Amounts of Eicosapentaenoic Acid and Docosahexaenoic Acid That Can Be Obtained from the Diet Reduces Blood Pressure in Adults with Systolic Hypertension: A Retrospective Analysis. J Nutr. 2016 Mar;146(3):516-23.
Bron: Ortho.nl
 Printversie Visolie verlaagt bloeddruk