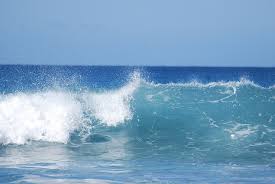 We weten dat een verblijf aan zee gezond is. Maar het waarom was lang onduidelijk. Enkele recente studies lichten een tipje van de sluier op: behalve de rustgevende en psychologische effecten, blijkt de 'zeespray' onze fysiologie gunstig te beïnvloeden.
Zeespray ontstaat doordat iedere golfslag zeewater vernevelt in de lucht. Deze bevat niet alleen water, maar ook heel wat stoffen die in het zeewater opgelost zijn. Deze worden geproduceerd door het 'zeeleven': algen, fytoplankton, bacteriën,…
Wanneer je zeelucht inademt, neem je deze stoffen op via de longen. Denk maar aan jodium. Maar ook veel andere biologisch actieve molecules: vitamines en mineralen, pigmenten, polyfenolen, enz… Zeespray blijkt zeer veel stoffen te bevatten die een diepgaande invloed uitoefenen op onze stofwisseling, en zelfs onze genen. Genoemd worden: ontstekingsremmende effecten en regulering van celgroei, zoals remming van kankercelgroei. Zeespray zou dezelfde effecten uitoefenen als longkankertherapie en cholesterolremmers!
Dus: ga eens meer wandelen op het strand, gezonder dan 'geneesmiddelen'.
Referenties:
Asselman J, Van Acker E. Marine biogenics in sea spray aerosols interact with the mTOR signaling pathway. Scientific Reportsvolume 2019; 9:675.
Moore MN. Do airborne biogenic chemicals interact with the PI3K/Akt/mTOR cell signalling pathway to benefit human health and wellbeing in rural and coastal environments? Environ Res 2015 140, 65–75.
de Morais MG et al. Biologically Active Metabolites Synthesized by Microalgae. Biomed Res Int 2015, 835761.
Prather KA et al. Bringing the ocean into the laboratory to probe the chemical complexity of sea spray aerosol. P Natl Acad Sci USA 2013; 110, 7550–7555.
Bron: ABC Gezondheid