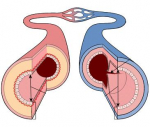 Onderzoek bevestigt het belang van vitamine K voor de gezondheid van bloedvaten.
Bij een onderzoek kregen bijna 250 vrouwen (55-65 jaar) een supplement met vitamine K of placebo. Na drie jaar noteerden de onderzoekers een toename van de soepelheid van de bloedvaten. In de placebogroep was die gedaald. De dosis die de deelnemers dagelijks namen, bedroeg 180 microgram.
Deze studie toont aan dat vitamine K2 op termijn de cardiovasculaire gezondheid verbetert. Eerdere bevolkingsstudies hadden wel al een verband tussen vitamine K2 en cardiovasculair risico waargenomen. De onderzoekers tonen hiermee aan dat vitamine K2 gunstiger voor de bloedvaten is dan vitamine K1.
Referentie:
Knapen MH, Braam LA, Drummen NE et al. Menaquinone-7 supplementation improves arterial stiffness in healthy postmenopausal women: double-blind randomised clinical trial. Thromb Haemost. 15 02 19;113(5).
Drummen NEA, Bakker SJL et al. Prevalence and Effects of Functional Vitamin K Insufficiency: The PREVEND Study. Nutrients 2017; 9(12):1334.
Schellinger N et al. Arterial Stiffness in the Context of Healthy Aging. Arteriosclerosis, Thrombosis, and Vascular Biology. 2019;39:1301–1306.
Bron: ABC Gezondheid